SHINE - Sustainable Hospitality Industry Inclusive of Native Entrepreneurs
SHINE – Sustainable Hospitality Industry Inclusive of Native Entrepreneurs
From May 2020, GrAT is implementing an EU SWITCH-Asia project in Bhutan, entitled "Sustainable Hospitality Industry Inclusive of Native Entrepreneurs (SHINE)". The project is funded by the European Union (
https://www.switch-asia.eu/
). For more information on the project, please visit
http://shine.grat.at
. 
Whereas tourism is the second biggest revenue earner in the country, there is a severe imbalance of economic gain. The three cities – Thimphu, Paro and Punakha – hold 65.9% of the Tourism share, all the six eastern provinces combined receive only 2.3% of the tourism influx and the corresponding value (Tourism Council of Bhutan, "Tourism monitor 2017"). To spread tourism benefits to wider sections of the population, innovative and 'SHINE'-ing product portfolios will be developed.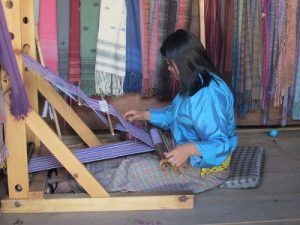 SHINE aims at developing sustainable tourism models in rural areas of Eastern Bhutan, with emphasis on indigenous food, handicraft, knowledge and culture. Micro-, small- and medium-sized enterprises (MSMEs) in tourism, rural producers, especially women entrepreneurs, handicraft industries, informal self-help groups, communities and disadvantaged youths will be supported to design and develop less polluting and more resource efficient, community-based products and services through rural tourism products. The cooperation between stakeholders along the tourism value chain will be strengthened. In parallel, relevant public authorities and education institutes will be supported to create enable environments for better income generation and employment opportunities.
​The project is going to be implemented in partnership with HAB (Handicraft Association of Bhutan), BAOWE (Bhutan Association of Women Entrepreneurs) and Stenum Asia. The project will last for 4 years until Year 2024 and the total budget is approximately 2.3 Million Euro.
In 2020 and 2021, many activities were carried out through a 'hybrid' method, engaging local staff and project partners in the field whereas the international experts, Dr. Robert Wimmer and Dr. Myung-Joo Kang joined online. Participatory Rural Appraisal (PRA) workshops were conducted in 4 target districts (out of 7), namely Zhemgang, Pemagatshel, Trashigang and Trashi Yangtse. Regional tourism resources, including natural and cultural assets, traditional knowledge and skills in handicrafts, agro-crops and non-timber forest proudcts (NTFP), have been re-discovered and discussed for commercial development for tourism. The findings are framed as diverse tourism package products. 
Crafts people were trained with new design and production skills for textile, bamboo and cane products. For better production and for new product development, the target groups along the value chain – farmer groups, NTFP collectors, post-harvest processing units, retailers, tour operators and guides, village home stay (VHS) providers – will be called for capacity building programs.